Year 4
10th January 2020
We have had a great start back after our Christmas holiday in Year 4. We have started a new book in our Literacy lessons, looking at Oscar Wilde's 'The Selfish Giant' where we are focusing on the skills needed to write a formal letter. We have also started a new History topic all about the Anglo-Saxons. In our Maths lessons, we have continued to learn more about division and been looking at the relationships between division and multiplication. We have settled back into school well and are looking forward to the term ahead!
13th December 2019
This week in Year 4, in a shorter week than usual with the polling day on Thursday, we have still managed to pack a lot in! We have had the story of the nativity by the Coverdale puppets on Tuesday as well as a group from Hawkley Hall High School performing a pantomime during the afternoon. We have also been visited by the 'Open the Book' group to talk about the meaning of Christmas on Wednesday. We have studied a new book, 'Varmints' during our Literacy lessons and have taken a thorough look at multiplication during our Maths lessons.
6th December 2019
This week in Year 4, we have completed our study of the book 'Until I Met Dudley' by writing our own instructions about how to make a delicious sandwich using some of the skills that we have been learning about over the past few weeks, including the use of bossy verbs, adverbs of time and writing in chronological order to name a few. In Maths, we have begun to take a deeper look at multiplication, focusing in particular on the 6, 7 and 9 times tables. In PE, we had a gymnastics competition in which had to demonstrate our abilities in balancing, jumping and rolling. We have also taken a look at Charles Dickens' 'A Christmas Carol' and linked this to our studies about Victorian times.
29th November 2019
We have had a challenging week in Year 4 this week, but it has given us a good opportunity to test our resilience and growth mindset. It has been exam week and we have spent all week completing various Numeracy and Literacy tests. On the whole, we have done very well and can be proud of our efforts. When we have not been completing tests, we have been map reading and using a compass to find directions in our Geography lesson and have started a new song in Music.
22nd November 2019
We had a very exciting start to the week in Year 4 as we were visited by the 'Mad Science Roadshow' in our assembly on Monday, were we looked at sports based experiments. In our Literacy lessons, we have focused on skills including the use of bossy verbs, temporal adverbs, conjunctions and prepositions. In our Maths lessons we have completed our assessment for the last section of our work which was all about addition and subtraction within 10,000. We have studied Judaism and Hanukkah – the festival of light during our RE lesson and looked at the Victorian classroom during our Topic lesson. This week, Year 4 also earned an extra break time as we won the weekly attendance award during celebration assembly. Well done, Year 4!
15/11/19
In Year 4 this week, we have started to study our new book, 'Until I Met Dudley', focusing on how to write down a set of instructions using bossy (imperative) verbs. In our Maths lessons, we have been looking at word problems using addition and subtraction. As it has been anti-bullying week this week, we took part in odd socks day on Tuesday to raise awareness. On Wednesday, we made some slight changes to the game of Kingball that we played to pay attention to the anti-bullying week slogan, 'Change Starts with Us' and on Thursday we designed our own anti-bullying posters in our Art lesson.
8/11/19
In Year 4 this week, we have written a sequel to the book that we have been studying in our Literacy lessons, 'FArTHER', as an extended write. We have also self-assessed this piece and edited it to make it as good as possible. In Maths, we have been learning different ways in which we can subtract and discussing which methods we preferred and found the easiest to work with. We have also concluded our Science topic, 'Electricity' and are now ready to move onto our next topic which will be 'Sound'.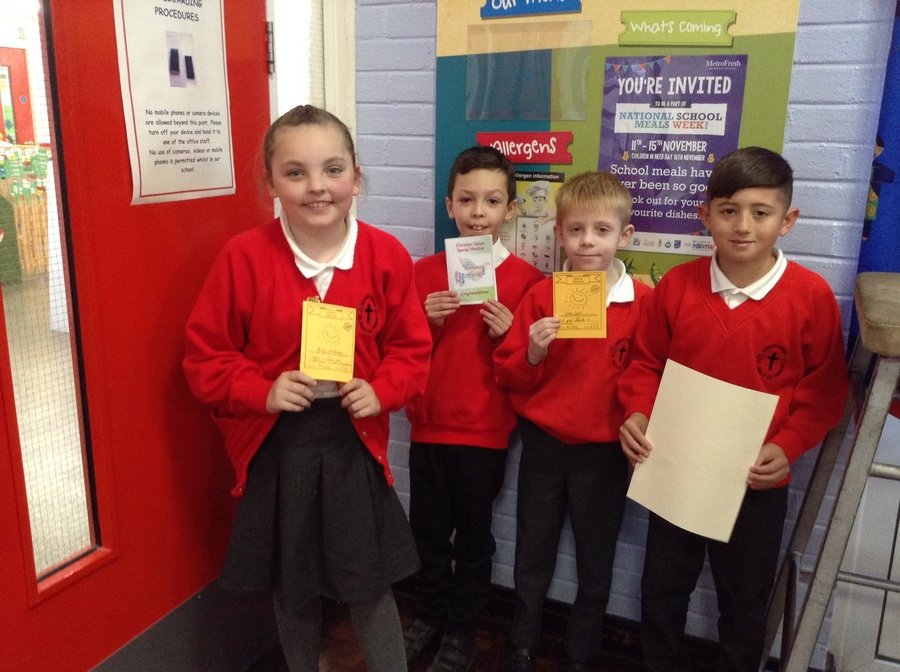 1st November 2019
This week in Year 4, we have been using different strategies for subtraction in our numeracy lessons, trying to split numbers into number bonds to make our subtractions easier. In Literacy, we have continued to focus on the book 'FArTHER' and have started to plan and write our very own sequel to the book, which we will complete next week. We have started to learn a new song in our Music lessons also, the classic 'What a Wonderful World', by Louis Armstrong.
18th October 2019
In Year 4 this week, we have continued to study Graham Baker-Smith's 'FArTHER' and we have used the pictures in the story to infer, as well as completing an extended writing piece based on a diary entry by one of the characters. In Maths, we have been working on column addition and using mental strategies to make some questions easier to answer. We have also been creating electrical circuits in Science to light a bulb and played a Kingball tournament in PE. On Wednesday, we celebrated Harvest at church, where we had the opportunity to make a charitable donation and perform the songs that we have been practising in Worship assemblies.
Friday 4th October 2019
We have had a very productive week this week in Year 4! We have completed our Maths work involving numbers to 10,000 and moved on to study addition and subtraction. We have also moved on our studies in English as well, as we have completed looking at The Iron Man at the beginning of the week, culminating in producing an extended write focusing on writing a story. We have had the opportunity to meet the new vicar in vicar's assembly on Wednesday and in our RE lesson, we found out about who God chose to do certain jobs. We have been looking at complete electrical circuits in Science and focused on Victorian fashion during our Art lesson.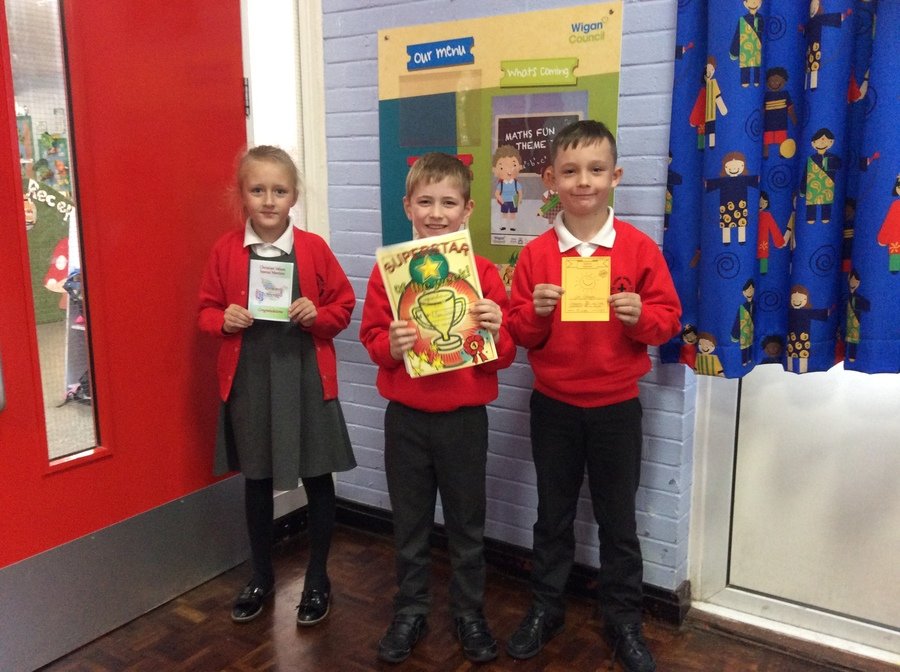 27th September 2019
This week in Year 4, we have completed our first big extended write in our Literacy lessons, based on the book that we have been studying, Ted Hughes' 'The Iron Man'. As part of this extended write, we have created an astronomer's log book, charting the arrival of a gigantic space dragon coming to Earth! In our Maths lessons, our main focus this week has been on rounding numbers and estimates. We have been trying to beat our personal bests in PE in a number of activities and have looked at the dangers and hazards that electrical equipment in the home can cause. Another very busy, but thoroughly enjoyable week has been had by all!
20th September 2019
We have had a very positive start to the new term in Year 4, and plenty of good opportunities to test our resilience and mindset. We have continued our Maths work involving place value and 4-digit numbers and found the new 'Maths No Problem' workbooks to be very useful. We have been studying Ted Hughes 'The Iron Man' in our Literacy lesson and looked in particular beginning to explore the use of conditionals in our writing and how we can build suspense in a piece of text. We have also been looking at 4 figure grid references in Geography, the Victorians in our topic work and discovering about Thomas Edison's invention of the lightbulb in Science. On top of all of that, we have had the opportunity to start learning our brass instruments and taking them home for the very first time!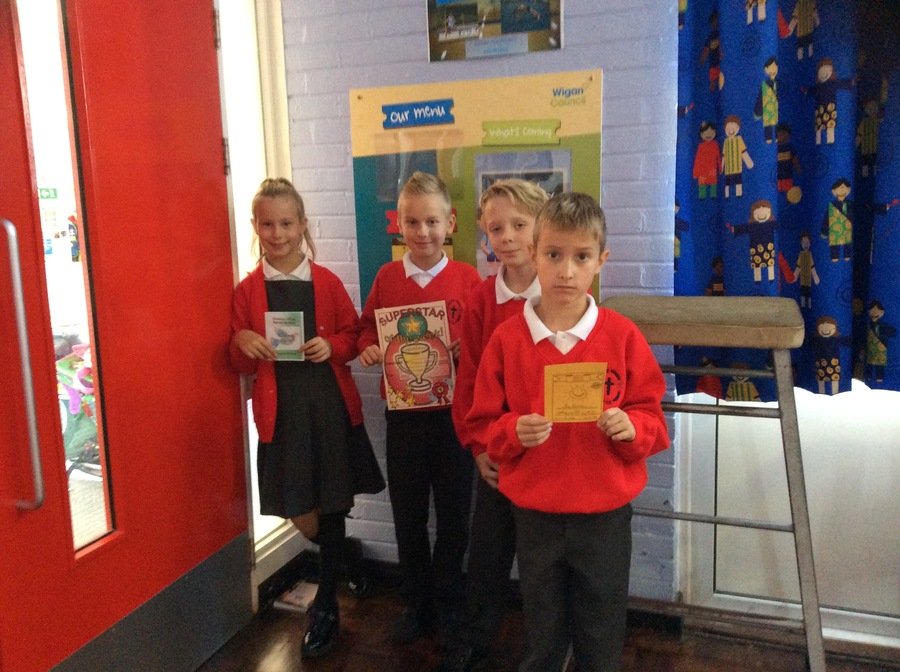 5th July 2019
'In Maths, we moved on from Time to Angles and we now know how to make angles and where to find them. In English, we are currently doing poems that teach us a lesson. This week, we met our new teacher and went into our new classroom. We did some lessons that we will be doing in September. Our Topic is Victorians and it is our favourite. We are learning about Victorian inventions.' Klaudia, Year 3
28th June 2019
'This week we acted out our play of The Cautionary Story of Jim and we tried to rhyme using rhyming couplets. In Maths, we learned how to read roman numerals within our topic of Time. The Life Caravan visited school on Monday and we learned about the brain and healthy eating. We practised our song for Church and learned about Victorian schools in Topic.' Libby, Year 3
21st June 2019
This week Year 3 have started a new book in English called, 'Jim, A Cautionary Tale'. We have learned about syllables in poems and acted out part of the book in groups using musical instruments. We are continuing our topic of Time in Maths, looking at time in seconds, hours and minutes. It would be beneficial if you could discuss what time it is regular intervals at home during the weekend with your child. In Science, have been discussing how to keep our bodies healthy and what nutrients different foods contain. On Friday, an athlete was invited into school. The children had a fun time in the hall, completing a number of activities on a carousel.
14th June 2019
'On Monday, we had a Science assembly and everyone really enjoyed it.
On Tuesday, we did a Spanish test about numbers and months which was really fun.
On Wednesday, we played games with Mr Saunders. We played dog, cat and chicken.
On Thursday, we looked at the Eatwell Plate, designed meals and researched why exercise is good for our bodies.
On Friday, we continued looking at Time in Maths and wrote a persuasive letter for English.' Klaudia, Year 3
7th June 2019
'In English, we read a book called 'How to Live Forever'. In this book, there are four old men and we had to describe them in today's lesson. We had to use adjectives like 'sensible', 'brave' and 'kind'. There is a young boy in the book called Peter and we had to describe how we think Peter sees the old men. We had to use the words 'mean', 'cruel' and 'rude' and put them into sentences.
In Maths, we looked at 'Time'. We learned about am and pm. Am is when you wake up and pm is when your probably having your tea and going to bed. The long arrow on a clock counts the minutes and the short arrow counts the hours.
In P.E. we practised for Sports Day and had skipping races, running races and the egg and spoon race.' Nicole, Year 3.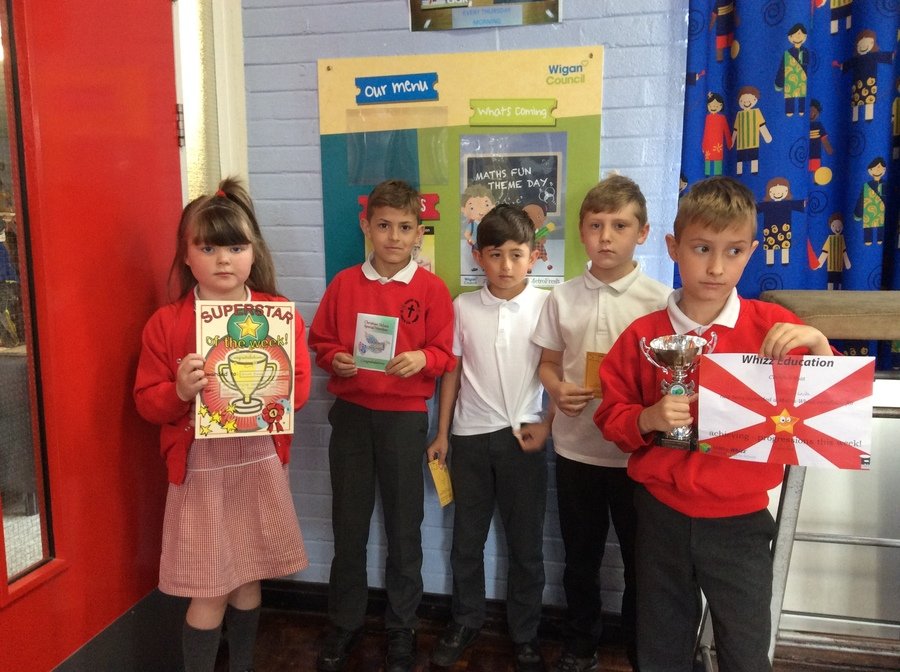 17th May 2019
Year 3 have tried really hard this week with a hard topic in Maths. We've been looking at Equivalent Fractions and Simplifying Fractions...which we're definitely getting better at! In English, the class have looked at writing a mystery story using lots of descriptive language. We looked at reflective materials during our Science lesson on Light and Dark and learned about 'retro-reflective' materials.
10th May 2019
Year 3 have had a busy week this week learning about equivalent fractions in Maths. We've tried really hard using the multiplication method and picture splitting method so far! We have looked at the present perfect tense in English, relating this to our mystery book Harry Burdick. We looked at 'Shadows' in Science and continued learning about the Victorian era in Topic. We are continuing our class reader, Street Child learning all about Jim Jarvis.
5th April 2019
Year 3 have enjoyed the Easter festivities this week. We took part in the Easter Story at Church and visited a number of stations, each explaining the story of how Jesus died. We also made Tzatziki Dip and everyone enjoyed tasting this Greek dish with pitta bread. We wish all of Year 3 a restful Easter ready for a fun packed summer term!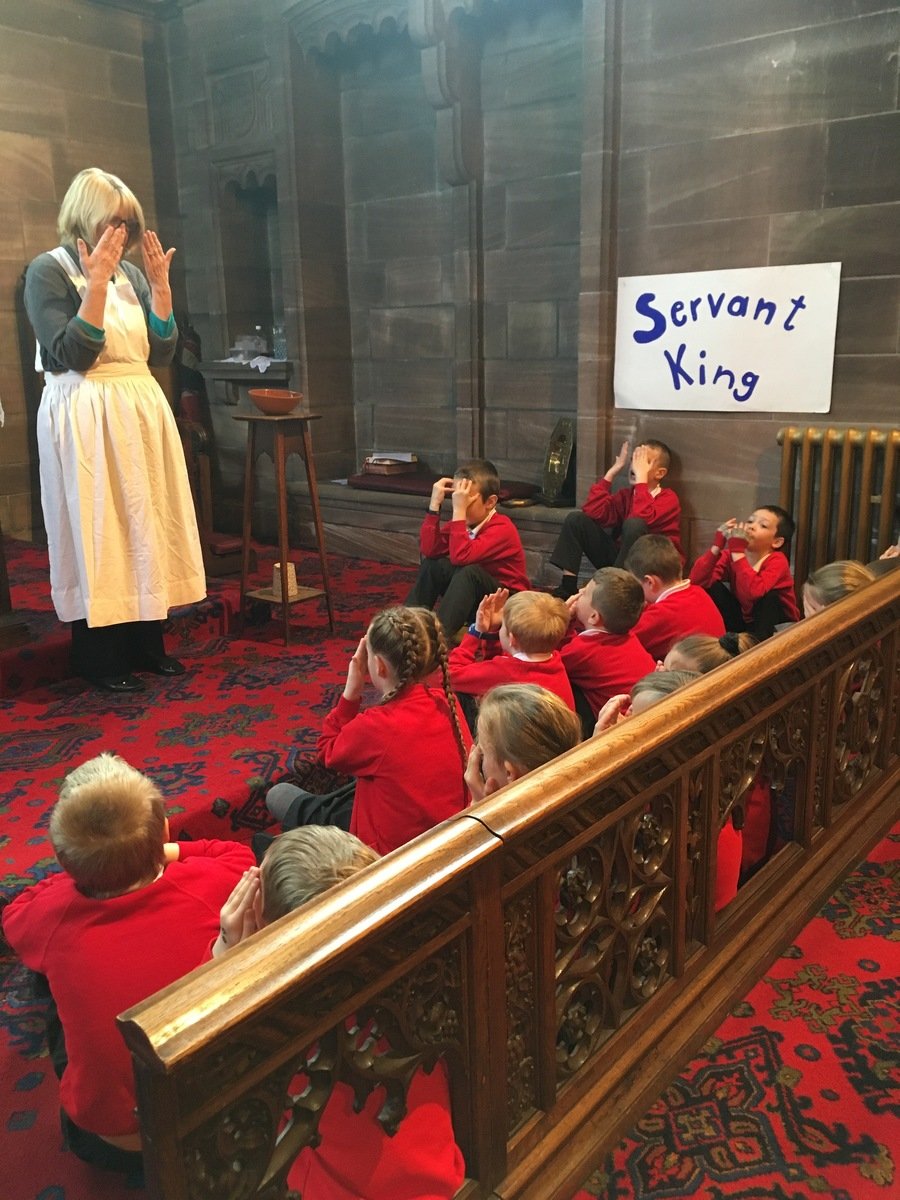 29th March 2019
We have had a busy week in Year 3 this week. On Monday the Water Safety team came in school to teach us how to stay safe near water. We learned about the importance of being able to swim and the safest places to swim are. On Wednesday we had our water safety swimming lesson. We were taught what to do if we came into danger in water. In English we finished our Pandora's Box poems and in Maths we continued our work on fractions.
22nd March 2019
This week in our English lessons, we have been focusing on creative writing using Greek quest myths for inspiration. We have looked at the story of Jason and the Argonauts and the Quest for the Golden Fleece and used that as a bases for our own writing. We have also started to write a non-chronological report about mythical creatures that we have designed.
In our Maths lessons, we have been looking at fractions. We have been working out how to make whole numbers from given fractions and adding fractions together to work out some problems.
15th March 2019
This week in Year 3, our English lessons have been based around speech punctuation and extended writing. We have been focusing on Greek mythology and the adventures of Perseus to help us achieve our writing targets.
In Maths, we have been calculating the perimeters of rectangles and looking at column addition. We have also used our calculations to be able to accurately draw out rectangles of varying sizes.
8th March 2019
This week Year 3 have had a very busy week. On Monday we went to Liverpool Cathedral to take part in an Easter workshop. We took part in lots of activities that taught us all about Easter. On Wednesday we went to St Paul's Church and celebrated our Ash Wednesday service. We all had the chance to receive ashes on our forehead or hands.
1st March 2019
This week in Maths Year 3 have started the topic of measurement. We have been looking at the different tools we use to measure distance and the units we measure in.
In English the children are learning to describe a setting. We have looked at adding adverbial phrases to the sentences they produce.
In Science we have been learning about our joints. We have been moving around finding different joints on our bodies and it was a very exciting part of our Science topic this week.
15th February 2019
The children have moved on to using money this week in Maths. We have looked at converting pounds and pence, adding and subtracting and giving change. In English, Year 3 looked at adverbs and creating a poem for a Greek God using expanded noun phrases. The children tried really hard and created some fantastic verses using other skills such as similes in their poems. We are continuing to look at the human body in Science and naming bones this week. Have a lovely rest over half term!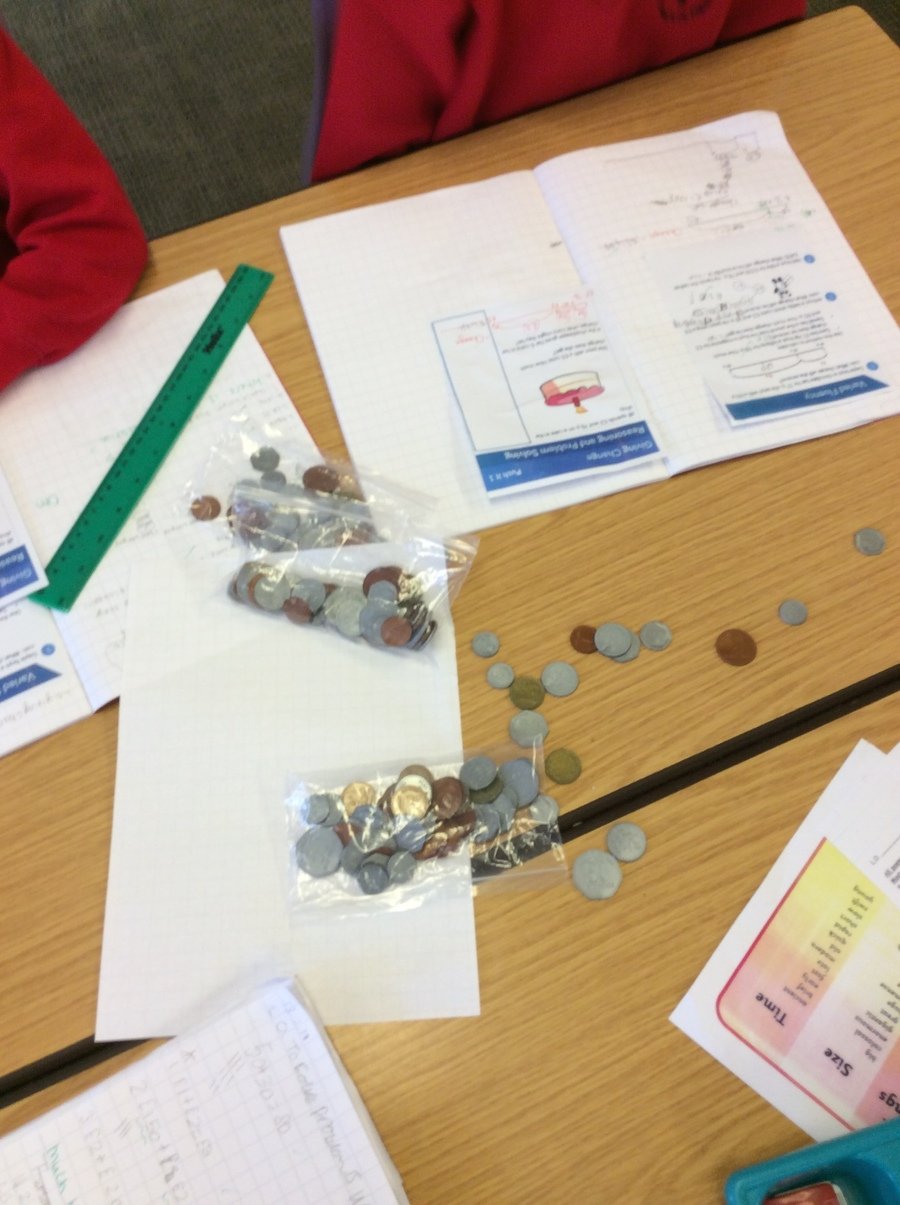 8th February 2019
The class have looked at a number of Ancient Greek Gods this week in English and Topic. In particular, Poseidon and Zeus. They have written expanded noun phrases and used a text to answer comprehension questions. The children continued their work on division in Maths and have started a new topic on Money which they have grasped extremely well! Well done Year 3!
1st February 2019
Year 3 have tried really hard to write their own Magic Box poem this week based on Kit Wrights, 'The Magic Box'. They have used expanded noun phrases, senses, similes and some prepositions in their writing. They have also been looking at partitioning numbers in Maths when working out multiplication and division questions. We looked at Ancient Greek artefacts in Topic and found that Ancient Greeks painted Gods/Goddesses, the Olympic games and other important aspects of their life and on to pots and vases.
25th January 2019
Year 3 have continued with multiplication this week in Maths. It's been a little tricky at times but it's fine to be stuck and we're putting in lots of effort. We have started our new topic on Ancient Greece and looked at Myths, in particular Pandora's Box.
18th January 2019
Year 3 have been practicing their creative thinking and problem solving skills in English, using the story of the Snow Angels. They have been finding out about identifying strengths and finding ways to use their strengths well.
11th January 2019
Year 3 have had a good start back after the Christmas holidays. The children wrote about what they got for Christmas focusing on 'a' and 'an' for English this week. They have also looked at 'there', 'their' and 'they're' homophones. We have finished off our Volcano topic by writing our own information booklet on Volcanoes, Earthquakes and Tsunami's. The class enjoyed learning about Earthquakes and Tsunami's.
21st December 2018
Year 3 watched a Pantomime on Wednesday afternoon. The children enjoyed the part when they turned the rat into a mouse because 'it was really funny.' They also liked it when the big spider chased Sarah. The children visited Santa on Tuesday morning for Breakfast which was very exciting...they enjoyed the crumpets and chocolate Santa gift! Year 3 have completed lots of fun Christmas themed activities in class and looked at co-ordinates today which was tricky but fun!
14th December 2018
Year 3 have had fun this week watching the Coverdale Puppet show. They liked it when the donkey kept popping it's head over the wall. Year 3 also enjoyed meeting Monty the dog on Thursday. The children thought it was funny when Cookie jumped up at Santa. We have also been re-visiting inverted commas and a/an in English.
7th December 2018
Year 3 have tried very hard in their tests this week so a big well done to them! On Monday, the classroom kitchen came into our class and the children made mince pies. The children said they liked "putting the mixture into the pastry" and "kneading the butter and flour together". The class said they had a fun swimming lesson on Wednesday. They said their favourite parts were "diving into the pool to get the sinkers", "jumping in and doing a cannonball" and "doing handstands in the deep end."
30th November 2018
In Year 3 this week we have been doing lots of reading work and multiplying and dividing by 3. In RE we did our diamond nine where we ranked the characters in the Nativity story in order of importance. We also looked at pronouns in Grammar. We have compared two newspaper articles based on different volcanic eruptions and used a Venn Diagram to display our findings. In English, we have been revising adjectives, nouns, pronouns, adverbs and prepositions.
23rd November 2018
Year 3 are working very hard to improve their handwriting this week and are doing a great job! In English, the children have been looking at paragraphs, inverted commas and features of a diary. In Maths, they have been using inverse and rounding and looked at problem solving with equal groups (multiplication). We have continued our Volcano topic and looked at how volcanic eruptions effect the environment around them and people that live nearby. Also, well done to the Year 3's that represented St Paul's in the football tournament on Thursday. They had a great time and impressed Mr Riley and Coach Shaun with their fantastic attitude and teamwork.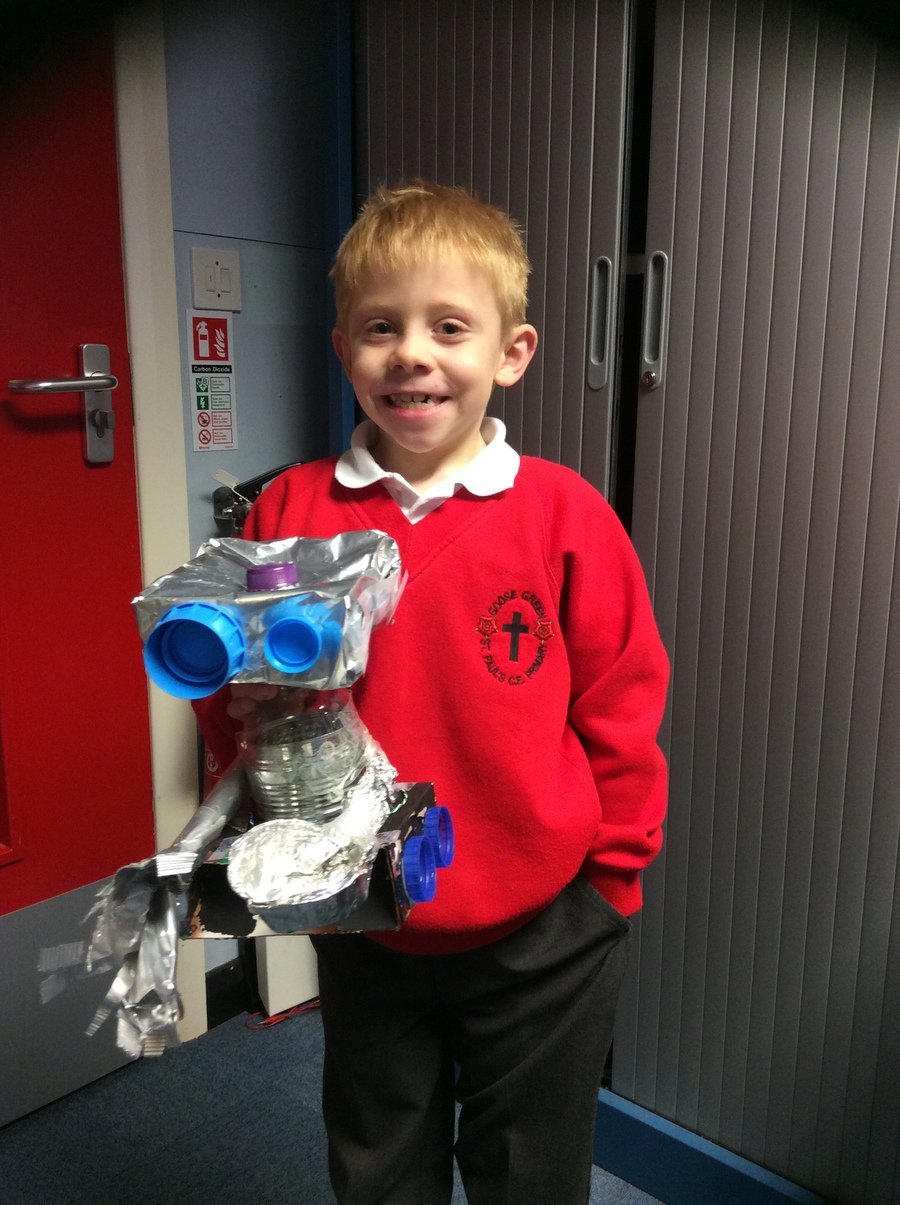 16th November 2018
Year 3 have worked on adding suffixes to words this week in their English skills lessons. They have learnt all about the stages of a volcanic eruption in Topic and started to plan an eye witness account writing as if they are a survivor for Extended Write. The children have looked at magnetic materials in Science.
9th November 2018
This week Year 3 have been working on column subtraction in Mathematics. They have been solving problems using column subtraction to find the answer. In Literacy the children have been writing imaginatively and describing how a volcano erupts. In Science the children investigated magnets and found out which materials were magnetic. As a class we also thought about what is the most destructive part of an eruption and we are looking forward to finding out more about volcanoes!
2nd November 2018
Year 3 have had a fantastic first week back.
We have had a very exciting discussion about our new topic 'Volcanoes!' We can't wait to learn about out new topic.