14th June 2019
Year 6 attended the Leavers' Service at Liverpool Cathedral this week. The service was really enjoyable and all pupils were a credit to the school with their behaviour. This week, we have continued our work on The Battle for Equality history topic, focusing on the Suffragette movement. Pupils have worked in groups to create posters for the WSPU that could be used in protests back in the early twentieth century.
10th May 2019
SATs week is upon us! Year 6 have worked so hard this year and I am proud of all of their achievements. Here are some parent tips to help you prepare for your child for SATs week from Oxford Owl:
Acknowledge Progress

- Spending some time the weekend before thinking about all the things they can now do that they couldn't do before Year 6 can provide a really useful confidence boost. It shows children how far they've come and reminds them that with hard work they can improve and learn new things- the key thing we want them to take with them to secondary school.

Wind down at the end
Like a runner training for a race, as the SATs draw closer it's a good idea to ease up towards the end. They've put in the hard work and now it's time for them to show what they can do. Still, one last reminder won't hurt: who knows, the elusive answer to 8 x 9 might be the very question that comes up.
Don't break from routine
It will help if the actual test week is as normal as possible. Don't rearrange things: if children have piano lessons, or stay for after school football club or spend an evening with Grandma, these things should still happen if possible. It helps to stop the week becoming a big thing, rather than just a few quick tests to for children to show what they can do.
Keeping healthy
Encourage children to eat well, drink plenty of water, get some exercise each day, and go to bed nice and early. We want children to feel their best for what might well be a busy week.
Good luck Year 6! You have worked so hard this year. Remember to try your best – that's all we can ask of you!
Miss Jarvis
3rd May 2019
This week Year 6 are continuing their preparation for SATs in just over a week. They have started learning about The Suffragettes in English, and have written speeches and diary entries. Some excellent pieces of writing were produced – well done! In Maths we have continued our work on algebra, writing algebraic expressions and working on understanding how to apply a formula. Lots of hard work in class this week – well done everyone.
5th April 2019
Year 6 have been working hard this week on their SATs revision and have been comparing the novel 'Goodnight Mr Tom' to the film version. They produced some fantastic commentaries/ balanced arguments on this. Year 6 have made a fantastic effort with their Easter gardens for the Easter competition. So much thought and care has gone into every single entry - well done everyone! Wishing you all a wonderful Easter Break.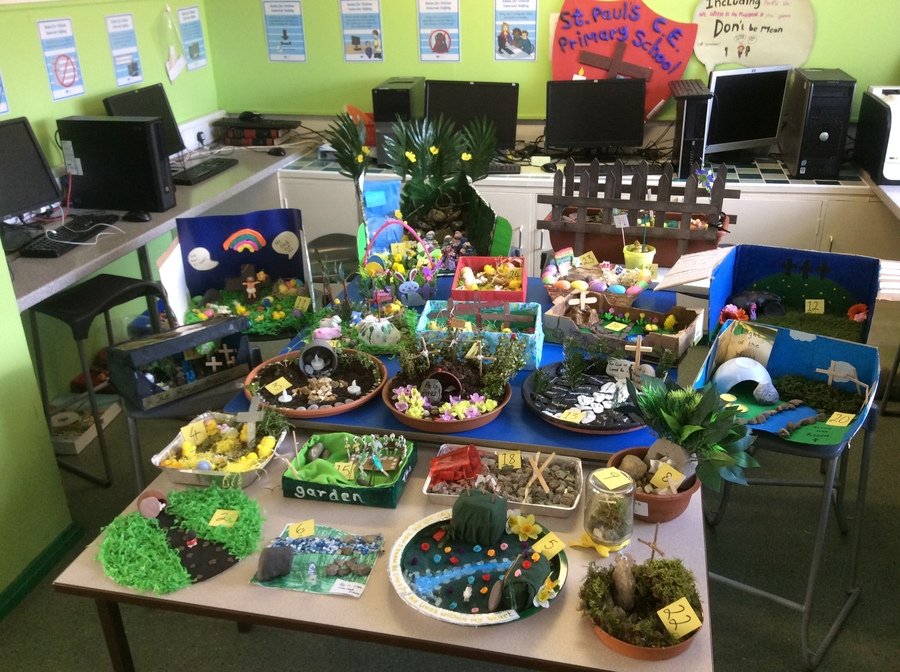 29th March 2019
This week Year 6 have been continuing their revision for SATs in all subjects. In English, we have been writing a setting description from 'Goodnight Mr Tom' using personification and intergrating dialogue. We watched a video clip of a train station in the 1930s to help us with our descriptions. We have practised the skills of "showing, not telling" the reader. Some excellent examples of personification were produced. Keep up the great work Year 6! Next week we will be comparing the film to the novel.
15th March 2019
This week, Year 6 have been writing persuasive letters in the role of Mr Tom, from our class novel, 'Goodnight Mr Tom'. We have focused on enhancing our letter writing skills through the use of formal language whilst combining these skills with the features of persuasive writing. The class have produced some excellent letters - keep up the great work!
In Maths, we have been revising for SATs, focusing on ratio and proportion. Another busy week in Year 6. Well done everyone!
8th March 2019
This week Year 6 have started a new unit in writing on persuasive letters. We have started to analyse the linguistic devices that feature in persuasive letters. Next week, we will be writing a persuasive letter in the role of Mister Tom. In Maths, we have been revising volume and fractions. Thursday was world book day - we dressed as our favourite characters from our favourite books and listened to a real author. Another great week in Year 6!
1st March 2019
This week Year 6 have been working hard on their assessments in preparation for SATs. Abigail brought a really interesting piece of work into school. She has completed an interview with a family member about their experience during WWII. Abigail shared this fantastic piece of work with the class; she explained how at the end of the war, many streets hosted parties where residents combined their rations to make cakes. Abi also explained how the warden would inform people if their lights were showing through the blackout curtains. Thanks for sharing this with us, Abi!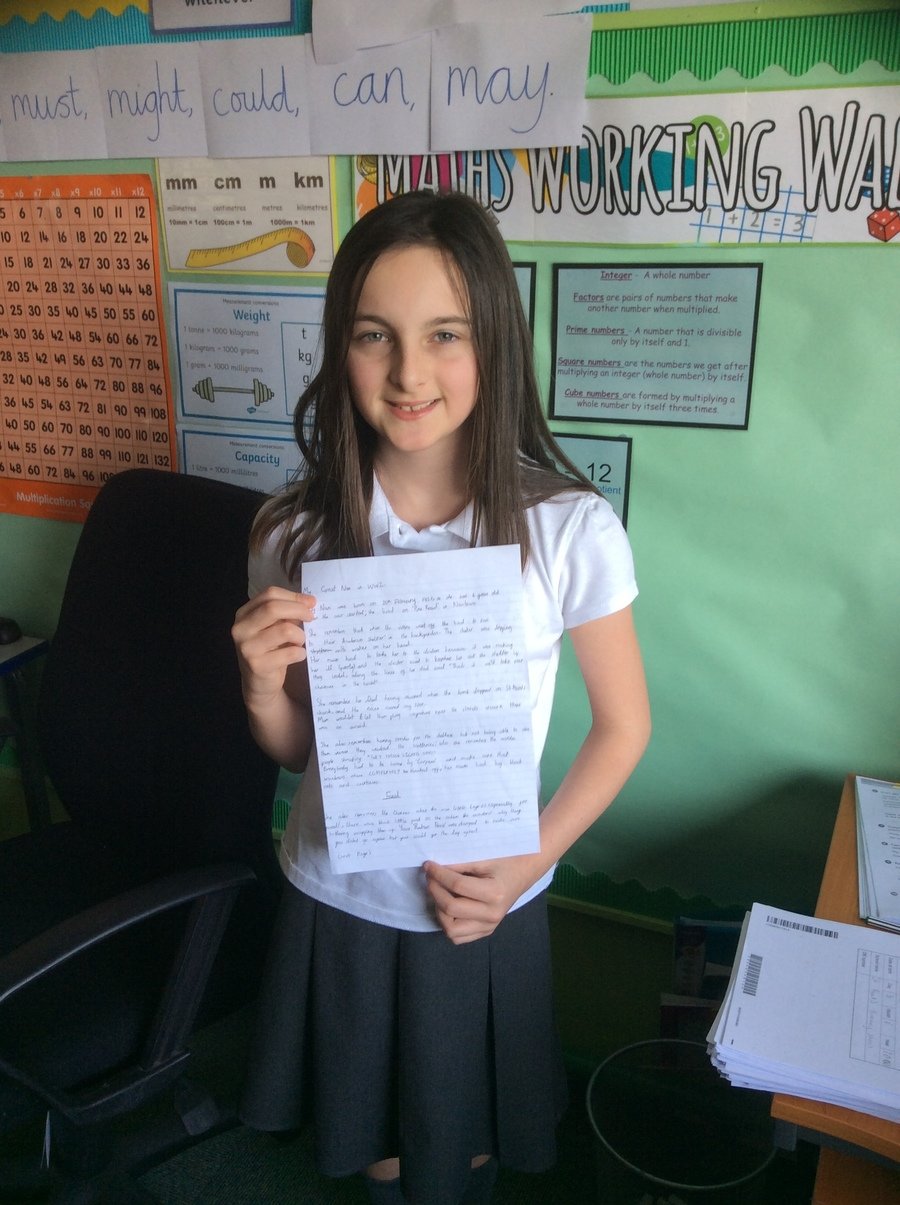 15th February 2019
In History this week, Year 6 have continued learning about WWII. We have been looking at how the events of WWII have shaped the society we live in today. In Maths we have continued learning about angles, including types of angles, triangles and calculating missing angles. In English, we have been writing balanced arguments to debate whether or not Evacuation was a good idea. We imagined we were MPs in 1939 and were about to debate the idea in the House of Commons. Another brilliant week of learning in Year 6! Miss Jarvis
8th February 2019
This week Year 6 have been continuing their work on Inheritance and Evolution. In the Science lesson we learned about Charles Darwin's theory of Evolution and how living things have adapted to their environment over a long period of time. We looked at the example of the Galapagos Finches and wrote our own explanations of evolution using lots of vocabulary from our knowledge drivers.
On Thursday, the NSPCC came in to speak to us about e-safety and keeping ourselves safe. We had a special assembly and a workshop.
1st February 2019
This week Year 6 have had an exciting week. We had a visit from an Imam from a local Mosque. He gave an assembly to the whole school, then Year 6 had a workshop. We learned about one of the Five Pillars of Islam - Hajj. We learned about the story of Abraham and Ishmael and their journey through the desert.
25th January 2019
Diary entries have been our focus on English this week. Year 6 pupils have written their own diary entries in the role of a character from our current class novel, Goodnight Mr Tom. Lots of excellent writing was produced. Hannah said "I really enjoyed Extended Writing this week because WWII is interesting".

In Maths we have been focusing on interpreting data (statistics) and calculating percentages of amounts - we applied this to problem solving. Alex said "it was really challenging but good."

In PE, we have started our WWII Themed unit in dance. The girls performed their sequence for the rest of the class at the end of the lesson.


18th January 2019
This week Year 6 have been learning about evolution and inheritance in Science. We completed a shared activity looking at different skills/physical features and discussed whether we thought these could be inherited or not. We have also been continuing our work with World War II and used the atlases in Geography to locate the continents, identify the Allied countries and the Axis powers, as well as identifying the capital cities of these countries. In English we have been continuing our work on Goodnight Mr Tom. Next week we will be writing a diary entry in the role of Willie using all of the features of a personal diary entry. A super week. Well done Year 6!
11th January 2019
To begin the new term Year 6 have been learning about their new history Topic, World War II. We have been learning about how WWII started and the impact of the First World War. Lots of excellent pieces of work were produced. Well done Year 6!
We have re-organised our class library. Abigail very kindly donated some of her old books which have been added to our collection. Teja and Mia volunteered to be class librarians and to make sure the books are organised into different genres of fiction and non-fiction.
In maths we have been exploring co-ordinates. Everyone has worked really hard and shown lots of resilience. Growth mindsets have certainly been shown this week!
21st December 2018
This week we have been working on Christmas themed problem solving activities. Lots of resilience was shown by all pupils as some of the problems were very challenging! On Monday, Year 6 edited their mystery stories from last week, using editing strips to focus on the section of the their writing they wished to improve. The Pantomime was the highlight on Wednesday; everyone really enjoyed the performance. We had a general knowledge quiz in class on Thursday - everyone really enjoyed working as a team to answer as many questions as possible. May I take this opportunity to wish all of our pupils and their families a very merry Christmas and a happy new year! See you in 2019!
14th December 2018
Year 6 have been looking at the features of a mystery story and have been practising using the passive voice to build tension in their writing. The pieces they have produced so far are excellent. In Maths, we have been solving multi step problems involving decimals. We have also had the opportunity to listen to a real author and to meet the wonderful Monty. A busy and successful week!
7th December 2018
This week got off to a very festive start when Year 6 had the opportunity to bake mince pies with Mr Deveny from classroom kitchen. This was lots of fun and Year 6 loved learning new skills. We have been working hard on our autumn term assessments this week, everyone has tried hard to achieve their best scores. Well done Year 6!
30th November 2018
This week Year 6 had a visit from Rev. Cook to learn about the Eucharist. We are now thinking about planning our own Eucharist using the elements that we learned about. We have also continued our work on the respiratory system and wrote excellent explanations about how the lungs work, including lots of scientific vocabulary.
23rd November 2018
This week Year 6 complete a science investigation looking at reconstructing the lungs. They followed instructions carefully and the finished pieces were a success. Year 6 also had the last classroom kitchen session where they made carrot and tomato soup.
16th November 2018
This week we have been thinking about respect and kindness in Year 6 for anti-bullying week. PCSO Dawn came in to speak about having respect for others when using social media. The class created posters to display around school, these focus on promoting random acts of kindness.
In science this week Year 6 have been continued their learning about the circulatory system. They have had a go at putting the heart together - but just using paper!
9th November 2018
This week Year 6 have been learning about addition of fractions in Mathematics. It's been challenging but everyone has persevered and made excellent progress. In English, we have been practising the skills linked to report writing and researching our topic areas for the non-chronological reports we will produce next week.
In topic, we have been learning about Viking longhouses. We created a home advertisement for a longhouse for sale using lots of descriptive language. On Tuesday, the classroom kitchen paid us a visit. We played some games to develop our fitness and learned about nutrition. We even had the opportunity to prepare and cook our own Jambalaya which was excellent. It's been a busy but interesting week!
2nd November 2018
This week Year 6 have been reading a range of non-chronological reports in preparation for writing our own reports on the Vikings in a couple of weeks. In Maths we have started our work on fractions and have been focusing on factors, multiples and simplifying fractions by finding the highest common factor.
In topic, we have been researching the city of York and looking at Viking artefacts that have been discovered there. In science, we have started our work on animals including humans and have been looking at the human circulatory system - focusing on the function of the lungs.